Our Clients Consistently Express That
Manjal Manor Event Venue is
Very Unique
Our clients consistently express their satisfaction, remarking, At last, a event venue that has more to enjoy than, just a decorated table.
More Value For The Dollar
Pictures don't do justice of how big the space actually is. If you are fond of outdoors, you will be in treat.
Prime Location
Located at the heart of Huntersville, Manjal Manor Event Venue is perfect for serving all of Charlotte and its surrounding areas.
Manjal Manor Event Venue
Charlotte, North Carolina is a vibrant city with a thriving event scene, making it an ideal location for hosting a wide range of events. Whether you are planning a micro weddings, wedding receptions, bridal showers, baby showers, birthday parties, sweet 16, quinceañera, corporate conference meetings,  social gathering, networking events, or family reunion, finding the perfect event venue is crucial to the success of your event. There maybe several top event venues in Charlotte, NC, that provide you elegant ballroom. But our unique indoor and outdoor spaces offers a diverse selection of choices to make your event more memorable.
Our venue can accommodate both small intimate gatherings and large-scale events, ensuring that there is an option for every occasion. 
Photo Gallery
At Manjal Manor Event Venue, we try our best to create unique spaces and focus on the best customer experience. But what makes the event venue extremely special is how each special occassion is being decorated. Every party host, blow our mind with their creativity, and how they make use of the blank canvas to fit their needs. We are extremely grateful for them to share their photos, which helps every other future hosts. It's time, you take a look at Manjal Manor Photo Gallery.
View Gallery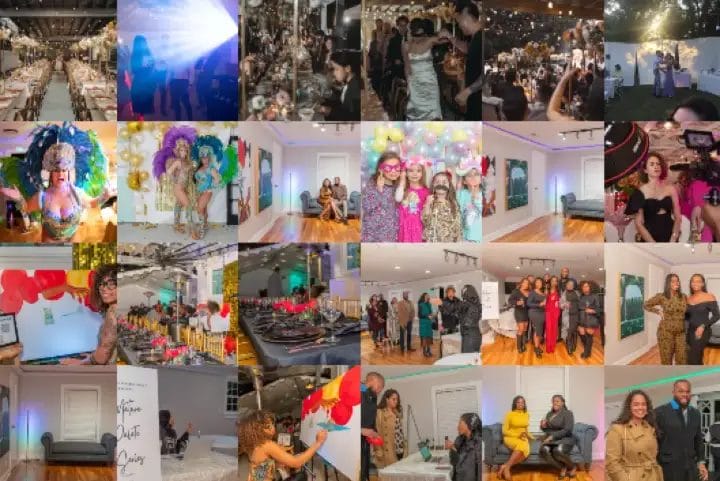 All inclusive
Pricing
Price-wise, we can be compared favorably to similar other venues. We hope that you'll find this pricing appealing and time-saving in making the right decision.
$2400/10 am - 10pm

Best for Business Meetings, Trainings, Workshops, Happy Hours, Meetups etc.

Special pricing for smaller events during weekdays.

$3600/10am - 11pm
(High Demand / Most Preferred)

Best for Weddings, Sweet 16's, Milestone Birthday parties, Graduation etc.

Add on: 50 chivari chairs & tables ($500)

$3000/10am - 11pm

Ideal for Baby shower, Bridal shower, Dinner rehearsal, Parties etc.
Don't need all day?
Need a "custom quote" for a few hours? Sure.
Request Quote
Manjal Manor is an ideal and affordable venue
Our event venue is ideal choice for various party types and offers a range of highlights that will make your event truly unforgettable. Whether you're planning a indoor or outdoor party, our venue has everything you need to create a memorable experience.
Whether you are celebrating a high school or college graduation, with careful planning and the right venue, you can create an unforgettable event.

View Details